PROFESSIONAL Cast Iron 10w Tattoo Machine Shader DV8-1
Description:
From DV8 Irons, this machine is hand crafted and features solid cast iron frame construction as well as heat fired, hardened springs, phelonic washer 10 wrap coils, and 22uf 50V capacitor.  The frame is constructed out of cast iron and finished off with a heat fired effect making each machine slightly different.  This machine is set up as a shader and should be used as one unless you are very experienced and can modify it to lining.
Optimum voltage: 6.2 volts (sweet spot)

10 wrap tight coils with phenolic washers

Cast iron construction (hand made)

Thermal insulated

Strong & steady 10 coil strike

22uf 50V capacitor

Premium brass front & back binding post and contact screw

Excellent Shader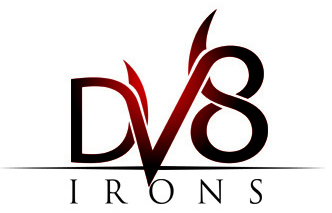 Genuine DV8 Irons Design!